Stainless Steel Channel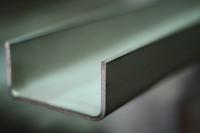 Stainless Steel Channel
Stainless steel channel is widely used for almost all industries for any possible application. For example, Protective Edges, Holders, Framings, Inserts, Brackets, Tracks, Supports, Reinforcements and Decoration. The type of material is particularly suitable where cleanliness and corrosion prevention are of high importance. That is because they are resistant to corrosion or rusting associated with exposure to water and moist air.

At Po Chwen Metal, we adopt the most advanced press bending technique for the making of stainless steel products. Our current capacity allowed us to produce channels with unequal side, and maximum thickness and length of 12mm and 7M respectively. The items we offer are available in various grates.As a responsible stainless steel channel supplier and manufacturer, we always want better products for our customers.

Although our state-of-the-art facilities have one of the most diverse ranges of product capabilities in the industry, we will continue to make improvements and increase our capacity.We will give you the best stainless steel channel . You can rely on our quality control and service. Please feel free to send us your inquiry.
Specifications:
Method: Press Bending
Stock Grades: 304, 304L, 316L
Specifications: ASTM, AISI, SUS
Thickness: Maximum thickness of 12mm (roughly 0.47")
Length:Maximum length of 7M (roughly 276")

Optional: Unequal sides